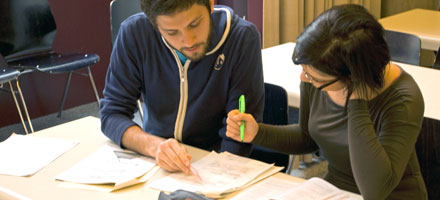 We give priority to students at Swiss Haute Ecoles (UNI,EPF,HES,HEP). We make every effort to find courses that most closely correspond to your requirements and capabilities. Propositions are automatically published on the website; an e-mail and SMS system is also available.
To access our services you must create a personal account and complete your profile. Creating and using your personal account is free.
The advantages
Through the easyprofs.ch website we centralise all requests for courses. No longer any need to put up notices or go through ads to find work.
We guarantee a support system throughout your work with us. We always stay in contact with the teacher, through the pupils' feedback or through our hotline.
Our procedures are essentially electronic: save time, paper and simplify proceedings.
The Easyprofs team also look after the financial aspects of your employment. The lessons are paid in advance; that way we guarantee our teachers their salary at the end of the month. We also look after the administrative part of salaries (fees, salary slips, AVS declaration, etc.).
We guarantee serious and appropriate assignments. We provide administrative backup and ensure payment. More information on the way the system works is in the FAQ section
Do you want to participate in a dynamic project and put your expertise at the service of others? Then join us !
Links: Teachers' FAQ and Recruitment procedure.
Special Links